Private Lessons
Private Lessons with Andy LaVerne

Andy LaVerneís teaching credentials and experience are vast and varied. He is Professor of Jazz Piano at the famed Hartt School (University of Hartford), on the faculty of the Aebersold Summer Jazz Workshops, given clinics and Masterclasses at schools around the world, has written and produced instructional videos, articles, books, and playalongs. He also has a loyal and sizeable group of private students. Since his days as a student at Juilliard, and his private studies with Bill Evans, he has shared his knowledge with a great many gifted musicians, many of who have gone on to very successful careers in music. Whether your goal is becoming a world class player, or just a part time music enthusiast, Andy can help guide you there. His thoughtful musical diagnosis, and individually tailored straight forward program blends theory, technique, and creativity. Now you can study privately with Andy!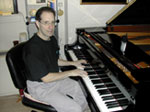 1) In person lessons with Andy at his studio in NY. Andy has a 7í Yamaha Disklavier Piano (acoustic piano which records and plays back). This is a great teaching tool, a student can record and playback for analysis. Andy has a library of Disklavier disks of such artists as, Chick Corea, Bill Evans, Oscar Peterson, Tommy Flanagan, George Shearing, Teddy Wilson, Richie Beirach, Warren Bernhardt, Andy LaVerne, and others. This is an invaluable resource for listening and analysis. A tone generator enables instant play along rhythm section recordings, which can be tailored to each studentís needs and abilities, i.e., keys, tempos, tunes, and progressions. Also available is the ability to record the lesson in a number of formats: Cassette tape, mini disk, Yamaha Disklavier disks, standard midi files. Video recording of the lesson is also available. (VHS/mini DV/DVD).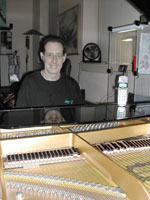 2) Lessons via phone. You sit at your piano at home; Andy is at his piano. The next best thing to being there!

3) Lessons via audio recording. Cassette tape or mini disc formats are available. You send Andy the tape or disc with a sample of your playing. Andy sends the tape or disc back with a complete lesson tailored to your needs. Written materials may be included with the audio recordings.

4) Lessons via video recordings. Formats available are VHS/mini DV/DVD). Similar to the audio recording option, with visuals.

5) Lessons via midi files. Andy generates midi files directly from the Yamaha Disklavier acoustic piano. Can be solo piano, or ensemble. Great for voicings, lines, time feel, comping, etc.

6) Lessons via Internet. Perhaps the most exciting of all. Equipment required: High-speed Internet connection, Instant Messaging program (Mac or PC), Web Cam (video camcorder, iSight, etc.), and piano or keyboard. You sit at your piano; Andy's at his. You see and hear both in real time, in stereo. Instant gratification!